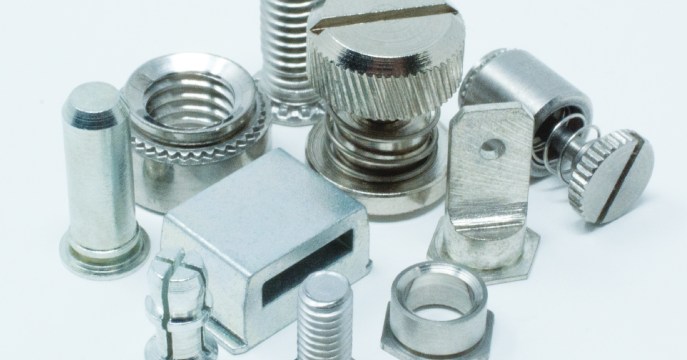 Posted the27/09/2021
Self-Clinching Fasteners
Titanox Fastening Technologies offers a wide range of self-clinching fasteners, in four main categories:  nuts, pins, spacers and captive screws. More specific components are also available upon request, such as spacers to hold PC boards or cable tie-mounts.
Titanox clinching fasteners allow you to insert threading and/or tapping onto steel, aluminium and stainless steel metal sheet. These inserts offer the considerable advantage of their compatibility with very thin sheet metal, from just 0.5 mm. Unlike riveting, which deforms the fastener material, this process preserves the assembly by deforming the sheet metal rather than the insert. These fastenings are reliable, with high mechanical properties and resistant to vibrations, according to the type and dimensions of the insert and the support. The inserts are available from M2 to M12.
These clinching fasteners are inserted using a press. They are easy to clinch and require no specific skills. You can even use the bending machines commonly available in workshops.
Designed for sub-contractors working with thin sheet metal, stampers and metal component manufacturers, these clinching fasteners are suitable for a very wide range of applications in almost every industry, even highly demanding fields like medical, electronics and aeronautics.
Long standing experience in self-clinching
Titanox Fastening Technologies has long been known as the specialist in self-clinching. Titanox experts are on hand to advise their clients, helping them choose the right fastening for their application. They can offer custom technical parts for small production runs, for example providing non-standard lengths or custom-made parts.
Thanks to their reactivity and versatility, Titanox Fastening Technologies can meet both the technical requirements of their customers and urgent requests, thanks to a stock of readily-available parts/units.
Just contact the product manager and say what you need.