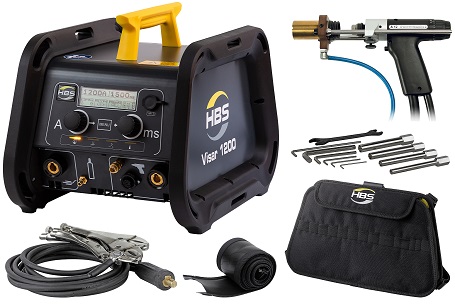 Posted the27/09/2021
A new HBS – VISAR 1200 pin welding machine
A compact and lightweight design generator with UPS technology and rubber protection, keeping it running even in challenging conditions.
Highly mobile thanks to its compact size and light weight, the wide range of power supply options and superior arc voltage make this unit suitable for use with even very long cables.
It is easy to adjust the current and weld time in real time, thanks to the large push-knob buttons and LCD screen.
The welding time and intensity are displayed on screen.
An extensive library and configuration assistant help optimise the generator settings and help configure the applicator gun, according to the application: Diameter, material, sheet metal thickness, selected process and weld position.
A USB slot allows you to save or load programmes.
A very wide welding range, providing excellent results with even very small pins.
Cycle rate: Thanks to the inverter technology and optimised cooling, this unit enjoys a very high cycle rate.
Integrated process control: With integrated process recording and evaluation, you are guaranteed an excellent weld quality.
Function control: An LED display showing the generator's status, functions and malfunctions.
Value control and deviation corrections in real time in order to maintain constant results. 
Heat-triggered ventilation: Reduces noise and pollution and improves reliability.