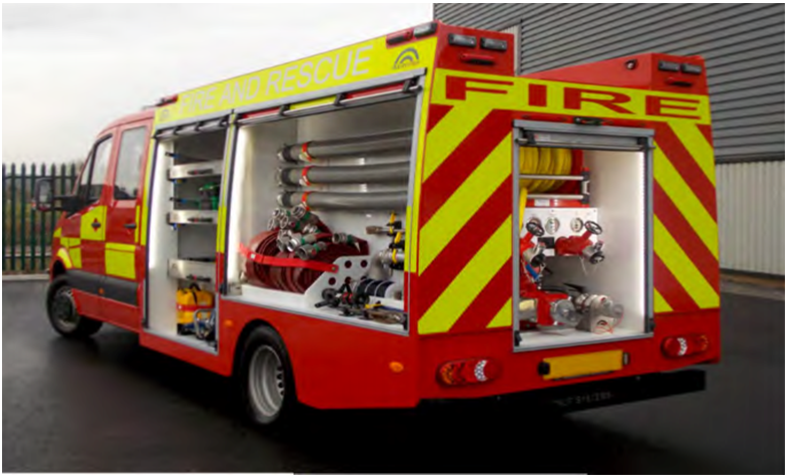 Posted the11/04/2018
Southco – Strengthening the safety of fire engines
Case study
One of the largest fire brigades in Britain wanted to reduce the complexity of locking systems for its vehicles while enhancing their safety.
Thanks to Southco, the solution was found with the development of an electromechanical locking solution that could become a reference for the secure locking of special vehicles.
The challenge
Using heavy mechanical locks and visible from the outside on its roller shutters, the customer felt that this system was excessively complex to manage, with a different key for each component, which was added to those of the vehicle. Moreover, the system left something to be desired in terms of safety: the vehicles being vulnerable to attack, because the locks were visible from
outside.
In addition, it was essential for the customer to have a lock control system inside the cab to ensure maximum safety and ease of use. Firefighters needed a lighter and more compact solution than the previous system, with reliability that would ensure it would work in extreme conditions due to the harsh environments that fire trucks face.
The solution
In view of the customer's main demands (improved vehicle safety and integration with the central locking system), Southco's choice immediately fell on the range of R4-EM electronic rotary latches, products successfully integrated by the manufacturer in applications where access control and protection against theft and vandalism were essential criteria. Southco specifically recommended the R4-EM 7 electronic rotary latch, which is specifically designed to provide reliable electronic access in demanding outdoor environments. With its corrosion resistant stainless steel outer body and fully sealed internal actuator, the R4-EM outdoor latch provides a reliable electronic lock that resists dust and moisture.
Since the R4-EM 7 range can be integrated with a control system, the customer was able to design a mechanism that works with the central locking system of the vehicles.
The immediate effect was a considerable reduction in key management since the locking of all the doors and shutters was done by simply pressing the vehicle's key ring!
The safety of the vehicle has also been greatly enhanced by the fact that the rotary latch was recessed behind the frame, invisible from outside the roller shutters, thus limiting the risk of picking.
In general, it is clear that reducing the risks of fraudulent access is a constant issue for owners of vehicles carrying valuable equipment. That's exactly what the R4-EM rotary latch guarantees: the convenience of electronic access control combined with a proven, rugged all-metal rotary latch in a compact and integrated package.